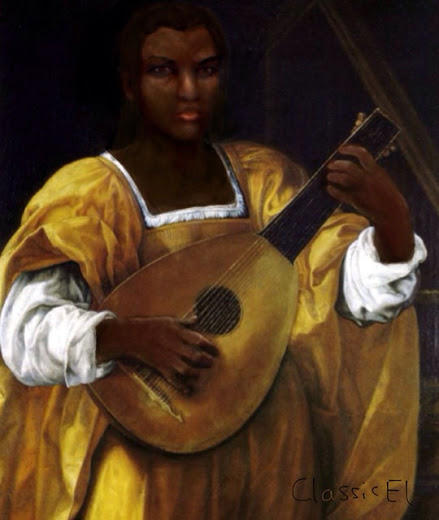 Editor's Note: Here's another magnificent piece of artwork from ClassicEl. I finally get the username by the way, it's a portmanteau of "Classical" and "El-something" (Ellen, Eleanor, Elena, Elizabeth, Ellie, El Magnifico). By Mara, I am slow. In addition, she also plays classical music too. I'll shut up now and let her speak.
Ok I've been playing around with some new apps/programs and this is the final product. It's an adaptation of the painting Woman Playing the Lute by the female artist: Artemisia Gentileschi.
So this is Fironet in her dreams, wearing an elegant golden dress while performing for the Jarl of Solitude.
I've also added a link to me playing (short excerpts of) two Renaissance Galliards by Francis Cutting. The sort of music I imagine Fironet would be playing in this portrait. (I play the Classical Guitar and particularly love Baroque and Renaissance lute music.)