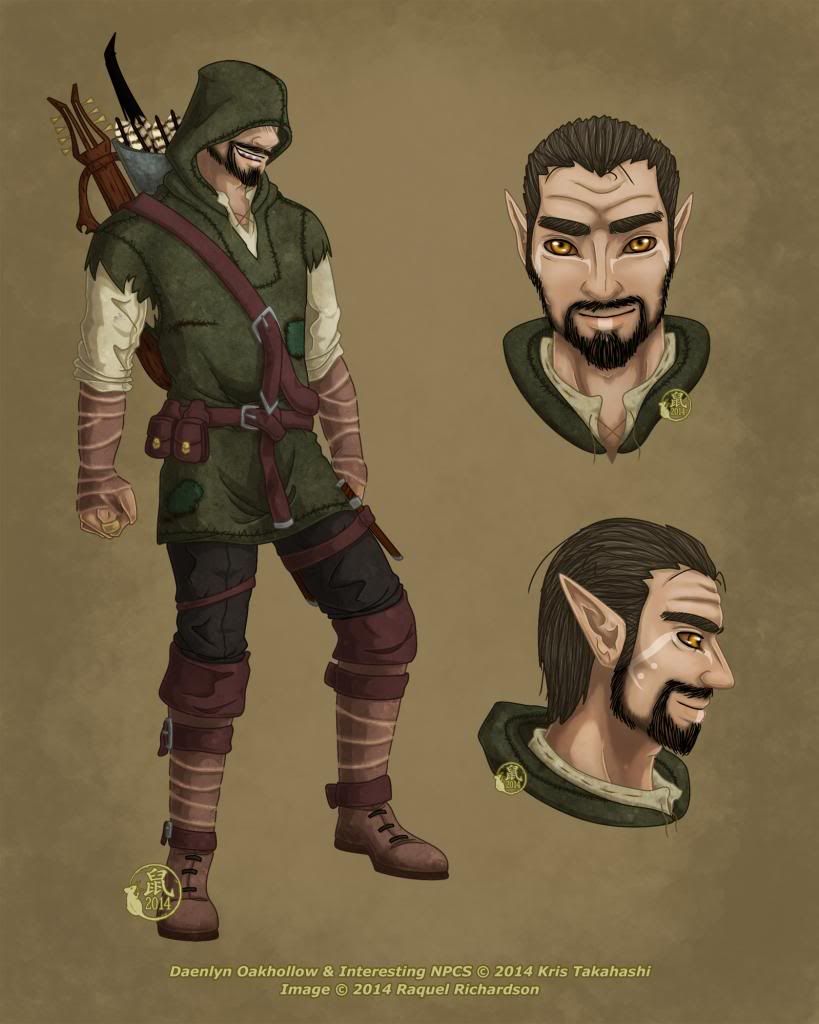 As I said I was working on something and it took me awhile to finish, mainly because this was originally a great big file full of Daenlyn doodles and it took all of my will power just to pick out a few to clean up. I plan to pluck a few more from the collective, but at another time.
Here we have Daenlyn Oakhollow as he appears in my game with a few creative liberties. I put him in Hunter Archer Armor: Robin Hood Variant, which is a great armor mod; wonderful in it's simplicity. Avishi, my Dragonborn, has really taken to this character. When she rescued him from his Thalmor friends she listened to his story, placed a sympathetic hand on his shoulder and said, "You're a bit of a scamp, aren't you? Come along, skulduggery and shenanigans await."
Avishi and Daenlyn get along very well. He's smart, charismatic, open-minded, and most importantly a man of action, which are traits she highly values. He seems to spend a lot of time carefully thinking on what to say next, which is good because he gets hilariously lost in his own similes. Daenlyn is also painfully homesick. So much so that Avishi has a bit of it, longing for sweet Masala chai, night blooming jasmine, and the warm embrace of the desert sun. When they aren't defending the innocent or plotting some great prank against the Thalmor (which rattled Valgus' nerves something fierce when he was traveling with them) they're conversing and debating. Most of which having to do with Bosmers and Valenwood, since he's very vocal about his culture. Topics like "Why fruit should be exempt from the Green Pact" and "Would you eat my corpse if you had the chance?" come up often. Avishi hasn't gotten a straight answer from Daenlyn on that last one.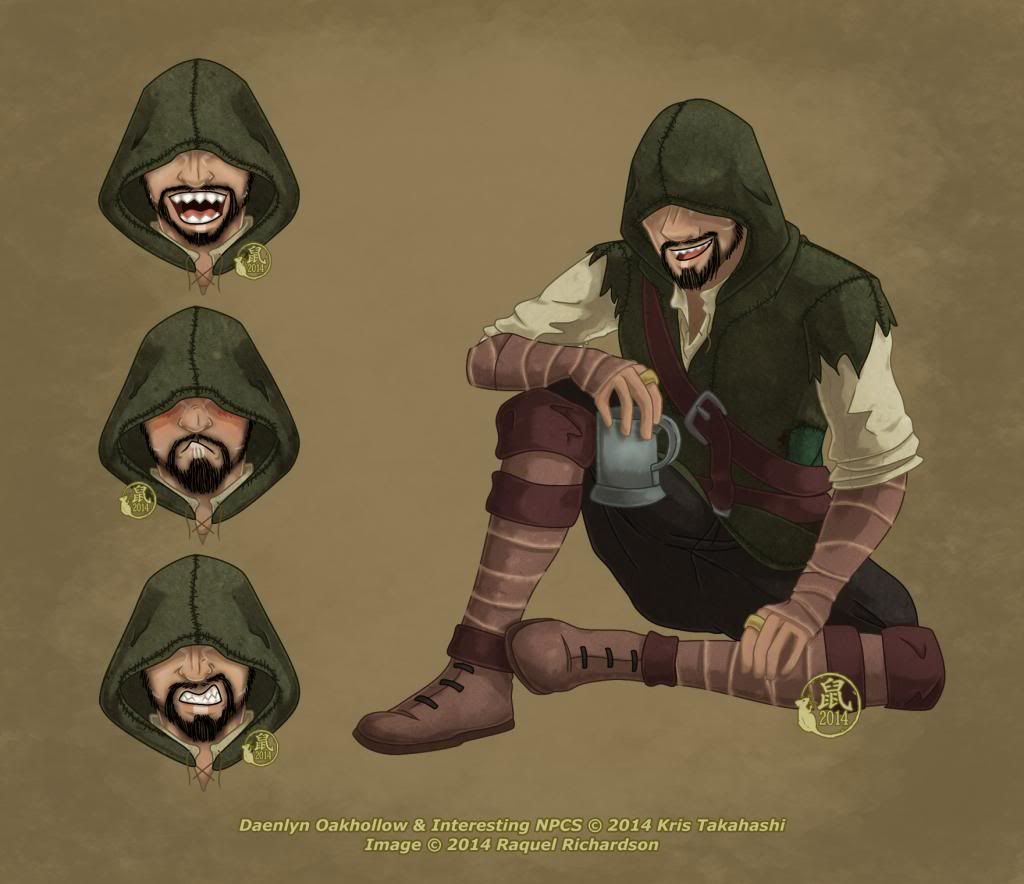 I like Bosmers, I think their cultural background is fascinating, however as a race they've been given the short end of the stick. They're the least confrontational, least intimidating of the elven races; they have large eyes and youthful friendly faces. Some think, "That's great for a bard like Daenlyn!" And they'd be right. However it's not great for a gambler, which he also is. Seasoned gamblers are naturally suspicious of innocent faces, even when big scary faces are more likely to cheat.
This is the reason I put Daenlyn in this armor. The hood only shows the lower half of his face. This makes it so others have to focus on what he has to say and his teeth, which are rows of saw like pointed death. This is a creative liberty I take with Bosmers; I don't know if they actually have pointed teeth. However, those teeth are a simple reminder that, "Hey, that race is known for eating meat. People meat." With Daenlyn's eyes hidden that means I get to have the pleasure of making his expressions extra cartoony in order to get his emotions across. My favorite is the blushing pout. <3